Due to Covid-19 the Saturday Café has been suspended until further notice. We look forward to its return when conditions allow.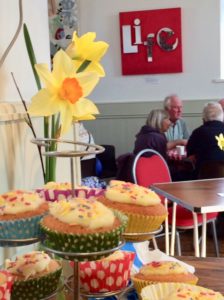 Run a café, have fun and raise money for your group or favourite charity at the same time!
Our refurbished Village Hall is available on Saturday afternoons for hire to charities and other organisations wishing to run a cafe and raise awareness and funds for their cause.
WE'LL WORK WITH YOU
Once you've booked a café slot, you will be allocated your own experienced volunteer ('link person') to assist you in setting up the café and help you during the afternoon.
Café opening times are 2.00 – 5.00 pm so you will need to be at the Hall for about 12.30 pm to set up in time for the start.
You will need to supply a kitchen team (about 4 – 5 helpers), milk, posies of flowers for the tables, and of course, cakes! These should be home-made (this is what makes our cafés special!).
The Hall supplies ground coffee, tea and sugar free of charge.
A 'Kids' Corner' for young children can be set up, with toys and drawing materials provided by us.
PUBLICISING YOUR CAFÉ
Let people know about your café event yourself by publicising it through your own networks well in advance of the date.
We'll help by publicising your event in Cilcain. Please send us a copy of your poster to publicity@cilcainvillagehall.com as a jpg file at least 2 weeks before your cafe for inclusion on our social media pages. We will also display your poster in the Hall and on noticeboards in the village.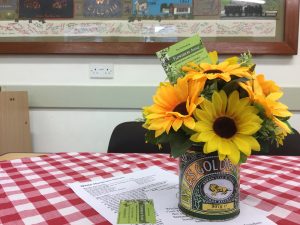 COST: The cost of hiring the Hall and kitchen is just £35 for the afternoon.
Follow this link to book/make an enquiry about a Café slot.